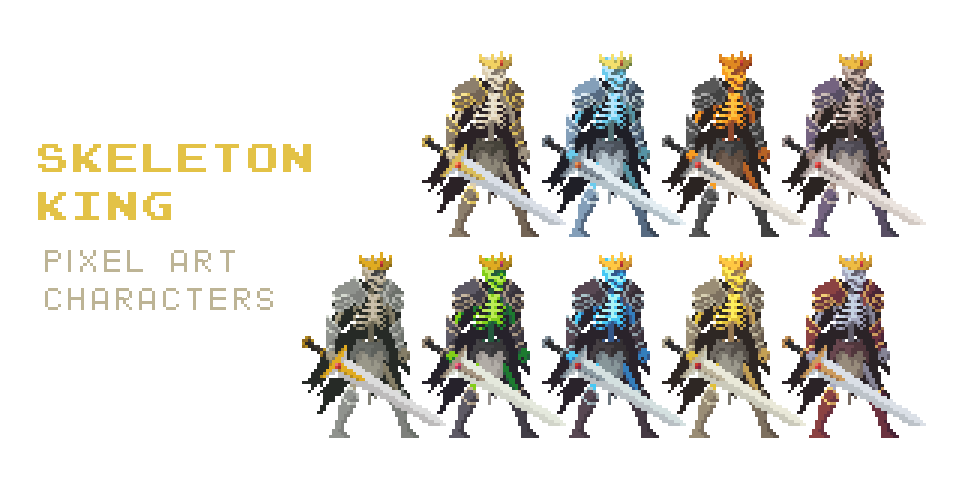 Skeleton King Pixel Art Monster Asset
A downloadable asset pack
Get this asset pack and 19 more for $91.00 USD
View bundle
Who dares look upon the king?
The skeleton king is the most famous character in medieval games and I'm really excited about making this. This character will make your game more attractive and get noticed by gamers.
The classic design.
When I begin to design this character, I started with a simple idea: He will be a skeleton with a crown, have some pieces of armors, tattered cloak, and Strip and wearing a king's sword. This classic design makes the gamer feel awesome. Yeah he is skeleton king and everyone knows it, and they quickly got excited about it.
The mechanic design.
Not just the visual, I also think about what will be good for a big boss. As he is a huge body than human, so he does not need to run, he just needs to walk. He can also quickly jump to make a faster approach and make people crazy "he is coming". It increases the better gamer's tensions.
He has 3 different skills and they are different approach so it makes the combat less repeat. The gamer needs to take time to learn to dodge the boss and find a tactic to fight back. it will make the awesome boss battle.
The high quality visual design.
The skeleton king is not just bigger than my normal characters, it also has a bigger number of frames to make the animations look more smooth.
the details of the animation have been taken carefully. look at the cloak, the strip being very fluid because it made by fabric material. It makes the character so alive!
when the boss jump, it has 3 different states: jump up, middle air and jump down. I also made the cloak and strip being animated to make the character look less still when jumping for a long-range.
I also make the sitting animation and the throne. The skeleton king is staying in the throne until the player came and he just starting to breathe like a reborn then he jumps to battle! That will make players say wow!
9 different hand-crafted color schemes
I made more color schemes as I want it to look different than my skeleton warriors. The boss should look different to make the gamer feel less repeat or lazy work.
Each color schemes have a different theme and it will provide more choice for creator so he can create a different skeleton king for his game. With upcoming quality effects, I'm sure you can create your own skeleton king with different effects and feelings!
Pack Features
13 animations with 63 frames.
Fire effects for cast ability.
9 different color schemes.
10 different color thrones.
character size 64px.
All separate sprites png files so it is very easy to import to any engine.
Every Purchase is a great support
Making this quality asset requires a lot of time and effort! However, we love this and want to do more and more to bring more choice, more helpful to indie game developers to get game assets with small budgets.

All SanctumPixel's Assets




Purchase
Get this asset pack and 19 more for $91.00 USD
View bundle
In order to download this asset pack you must purchase it at or above the minimum price of $10.50 USD. You will get access to the following files:
skeleton_king_1.01.zip
2 MB
Comments
Log in with itch.io to leave a comment.
Too bad you can't pay by card!
Used this badass as a boss in a game I'm making. Great work, I really love your "grim" fantasy characters like the Skeleton King and the Angel

Amazing asset, I would love if there was an animation from him sitting in the throne to standing up. Keep up the excellent work!
Bought this pack. Thank you! I just wished it had an animation in the throne from sitting to standing.
excuse me ,But can you help me make it into sprite sheet please
i already buy it but i cannot use it in pixel maker MV if there are seperated
or if you know how to use it please tell me
thanks so much
Hey sorry for late reply. I was busy on next projects and missed your comment. I'm going to make full sheet for all characters so there will be update.
Wonderful, thanks for the release and the comment letting me know :D. You have done amazing on this one, many animations to work with and I am loving the color types! You made exactly how many I wanted for a fellowship of ancient exiled kings :D. Hes a beautiful imposing stack of pixels. Keep up the great work, looking forward to your next one.
Thank you for comment! The next asset will be environment. Good luck with your project!
This is amazing! Nice job!