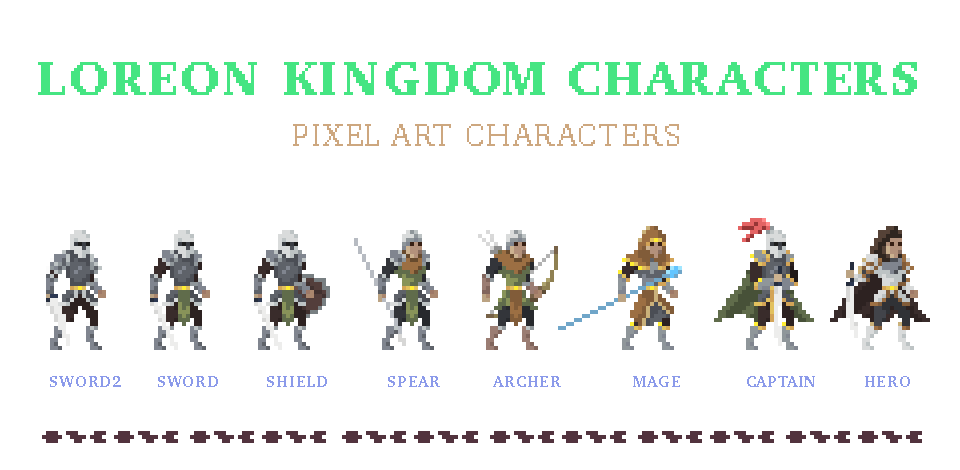 Loreon Kingdom Pixel Art Character Asset
The Monster set In-development
---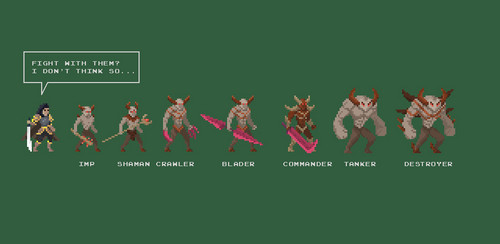 Hi everyone,

After releasing the Loreon Kingdom Pixel Art Character Asset, I'm working on first enemy set which are the demon set. You can see character designs here.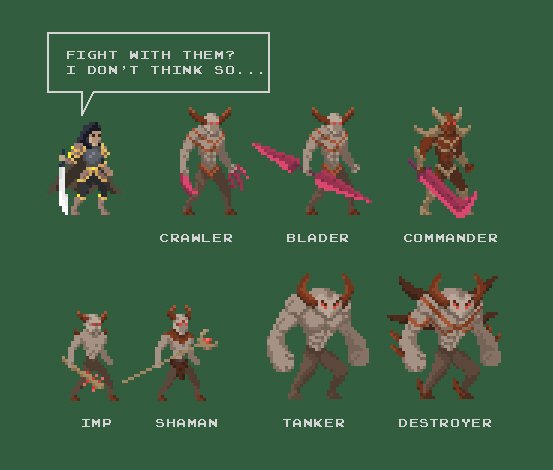 Character Concept Ideas
There will be 7 characters or more on this new enemy set, as well as there will be few color variants to allow more choices for game dev. Here is what my ideas for characters:

- IMP and shaman: these characters are the smallest of demon army which have the same size as a human. I inspired them by fallen one and fallen shaman from Diablo2, Diablo3 which are my favorite games. The imp has a simple attack but they have the number and run fast. While the shaman can cast magic from far and cast to recall the imp to make the battle more complex.
- Crawler & blader are soldiers of an elite army control by Commander. They are strong, have high attack dame, as well as they appear to make enemy fear.
- The commander is like a hero. He has very good sword skills as well as cast magic to attack enemies which makes him can be the main boss for a sector.
- Tanker and Destroyer are the huge ones they using their strength to crush tiny humans! The destroyer is a supreme version of the tanker which will have the ultimate ability to clear the human team!
Tell me what you think?
I would like to know your opinion as well as your idea about this demon set.
Get Loreon Kingdom Pixel Art Character Asset
Comments
Log in with itch.io to leave a comment.
Can't wait to use these! They look promising, keep it up!