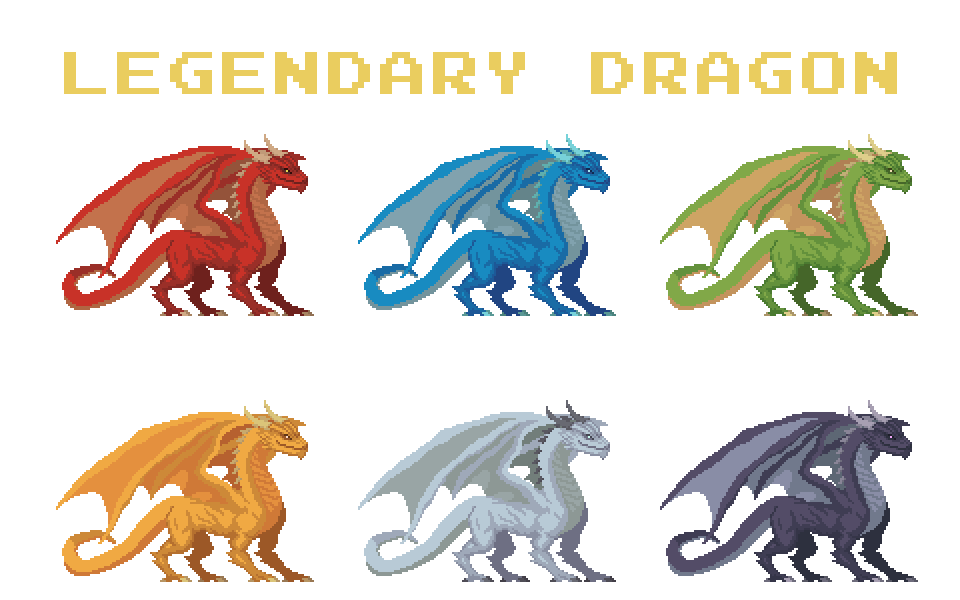 Legendary Dragon Pixel Art Character
A downloadable asset pack
Get this asset pack and 19 more for $91.00 USD
View bundle
This is the Real Dragon asset you are waiting for!!! You can't find elsewhere the super dragon asset like this. Dont miss it!
Bigger Size, Many animations and smooth animation!
You may surprise about the price is higher than most of my other assets. But The price is fair. Not just because it's a unique asset. The size of the dragon is a lot bigger than all my assets. The dragon has been built very carefully so I made a lot of animations to make it more useful. It also has a bigger number of frames to make the animation look smooth.
Ground & Flying Animations
This dragon have 2 set of animations which are ground and flying. It also has the lift and landing animation to change the state of dragon.
Spit Fire Effect
I'll make a new fire effect that include a many type of spit fire effect so you can have more choice for this dragon! Stay updated!
Pack Features
13 animations with 105 unique frames.
8 hand-crafted color schemes.
Character size is very big. It could be 128-160 pixel.
All separate sprites png files and sheet files so it is very easy to import to any engine.
All SanctumPixel's Assets




Purchase
Get this asset pack and 19 more for $91.00 USD
View bundle
In order to download this asset pack you must purchase it at or above the minimum price of $17.50 USD. You will get access to the following files:
legendary_dragon_char.zip
5 MB
Comments
Log in with itch.io to leave a comment.
Could you attach the source files?
Hi awesome again awesome dragon, I am starting to use it in my project, but have a problem with the animations. I want the dragon to fly in, and then land, but there are no animations from normal flying to landing. Only animation from flying to landing is if the dragon is in vertical position. I think it could really use a normal flying to land animation.
Yeah. Since the vertical position is primary and connects between all fly animation so the dragon needs to switch back to vertical before landing which is normal.
Ok I may have asked in a confusing way. My question is, how do I connect the flying horizontal animation with any of the other flying animations? There doesn't seem to me to be any links to transition between flying horizontal to any of the verticals.
Hi just bought the dragon, it looks amazing. I am looking forward to see the new fire effect you mentioned you were working on.
Thank you for purchased! Im working on several projects and will make that fire effect too
You are extremely talented!
Very good! Please make a centaur that stomps (front feet) the ground and create fissure.
Great asset! I hope you continue to produce quality art like this.
muy bueno! felicitaciones!!!