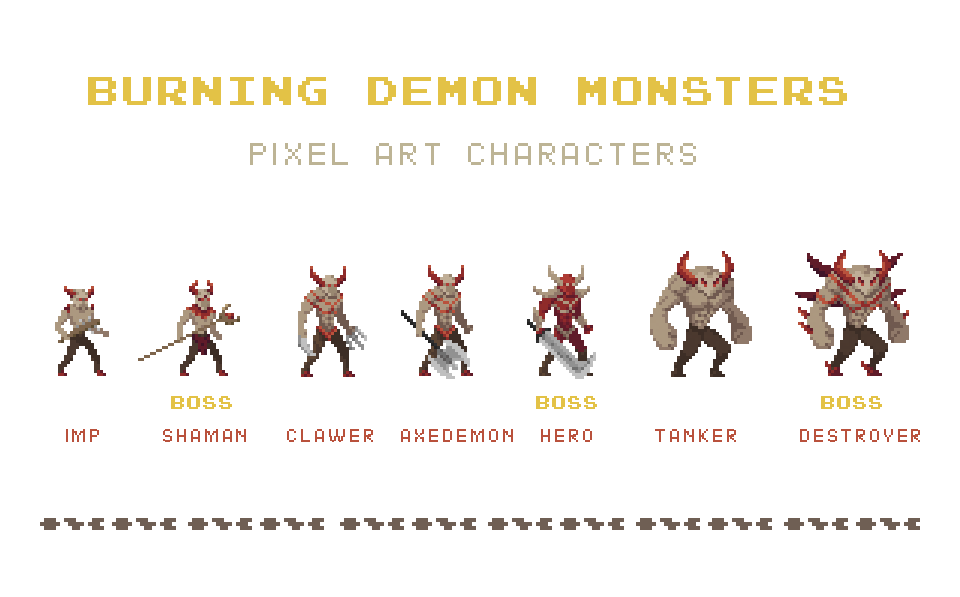 Burning Demon Pixel Art Monster Asset
Comments
Log in with itch.io to leave a comment.
Hello, it is possible to by only 1 character ,i need Boss Hero for my homework project?
demon_claw\demon_claw_orange\attack2_4.png BROKEN!
edit: yellow too!
It looks pretty cool!
I think that I'll buy that pack when I start making 2D platformer
demon_claw\demon_claw_red\attack2_4.png file broken!!!
Thank you for report! I will check and update fix file quickly!
Hi, I just updated the broken file. Could you check it?
I am very sorry to say it but those a quacking awesome!
Great asset to add on to the character pack that you have.
I wish you had added death animations to the imp, shaman, tanker and destroyer.
Hi, Currently you can use the fall back as they are just like the death animation. (backward death while the dead animation on other character is forward death)
I'll consider adding death animations soon when I have more time as I'm working on new assets.