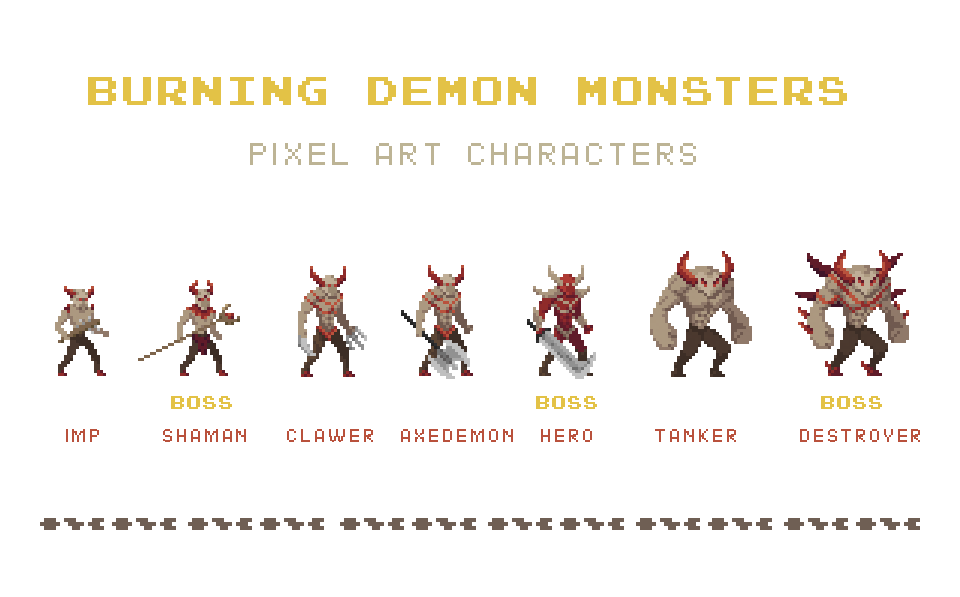 Burning Demon Pixel Art Monster Asset
A downloadable asset pack
Get this asset pack and 4 more for $31.00 USD
View bundle
Pack Features
This pack included a lot of characters and animations. Here are the details:
Imp: 9 animations
Shaman: 10 animations
Clawer: 11 animations
Axedemon: 10 animations
Hero Demon: 13 animations
Tanker: 9 animations
Destroyer: 10 animations
Bosses details
- The shaman can cast magic and summon the Imp demon.
- The Hero Demon can be moving attack and cast the magic (like call the stone spike) as well as it can cast projectile.
- The Destroyer can cast ultimate which will make AOE damage.
Effect details
- You can see a lot of included effects. I made this so you can allow the boss to cast more magic.
Included PNG files that can easy to import to any engine.
Pixel size 32px-48px
What the next plan?
- If you purchase my first asset, you will see this asset is coming a bit late. Because I was busy working some freelance projects. I'm still want to focus on making assets.
- The next asset will be skeleton & dungeon which will have skeleton warrior, skeleton archer, skeleton mage, skeleton king...etc
Every purchase is Great support!
Making this quality asset requires a lot of time and effort! However, we love this and want to do more and more to bring more choice, more helpful to indie game developers to get game assets with small budgets.
What you can :
- Use this asset on your game and sell your game. Credits are welcome but not required!
What you can not :
- Resell the asset. Or edit then resell the asset!

This is my second premium pack. It will be perfect to be enemies for the first asset.
Purchase
Get this asset pack and 4 more for $31.00 USD
View bundle
In order to download this asset pack you must purchase it at or above the minimum price of $10.50 USD. You will get access to the following files:
pack_burning_demon.zip
2 MB
demon_claw\demon_claw_red\attack2_4.png
26 kB
Comments
Log in with itch.io to leave a comment.
Hello, it is possible to by only 1 character ,i need Boss Hero for my homework project?
demon_claw\demon_claw_orange\attack2_4.png BROKEN!
edit: yellow too!
It looks pretty cool!
I think that I'll buy that pack when I start making 2D platformer
demon_claw\demon_claw_red\attack2_4.png file broken!!!
Thank you for report! I will check and update fix file quickly!
Hi, I just updated the broken file. Could you check it?
I am very sorry to say it but those a quacking awesome!
Great asset to add on to the character pack that you have.
I wish you had added death animations to the imp, shaman, tanker and destroyer.
Hi, Currently you can use the fall back as they are just like the death animation. (backward death while the dead animation on other character is forward death)
I'll consider adding death animations soon when I have more time as I'm working on new assets.